This week Joe and I reviewed the letter "D" as we had loads of fun with dinosaurs in our Preschool studies.
We read so many dinosaur books--some old favorites and several new ones too. All of the books we are currently reading are in my Shelfari in the sidebar, but here are the ones we enjoyed most this week:
Buying, Training and Caring For Your Dinosaur--such a fun read!


Can I Have A Stegasaurus Mom? Can I? Please!?


Dinosaur Days


Dinosaurumpus


Dinosnores


The Littlest Dinosaur--very sweet


Dinotrux


I'm Bad!--another fun read


When Dinosaurs Came With Everything


Joe continued with
Starfall
,
PBS Kids
, and various file folder games for
reading and phonics
practice. He did really well this week. I can tell he is beginning to understand and grasp that letters do blend together to make a word. As of this week he has some site words memorized, and was able to sound out more 3 letter words than ever before. (I am in no hurry to have him reading--we are definitely moving at his pace and will continue to do so. We only do reading games if he wants to, this is not something I insist on at all. At this point, Joe's school work is very much child led in all areas.)
Our Happy Phonics arrived yesterday. It looks awesome! I am so excited to get it ready over the weekend and begin using it Monday!! I will post all about in a week or two, along with what I think of the Singapore Math so far. **I decided to go with a different math for Hanna other than Singapore, she will be using Life of Fred--more on that later**.
From Kids Soup, I printed out several fun dinosaur themed learning games for Joe and put them into a file folder--site words, memory match and three letter words. He loved playing these games all week long, they were the first thing he'd ask to do. (I printed the front cover and reptile flap book from Homeschool Share.)
Front cover: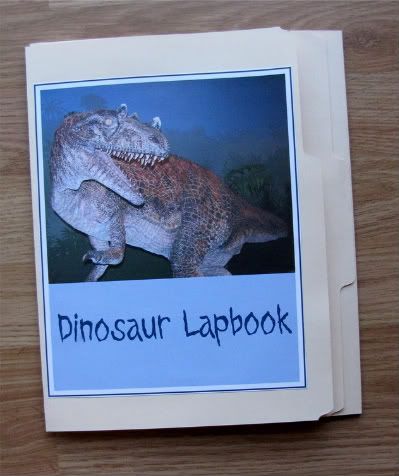 Inside, middle and back: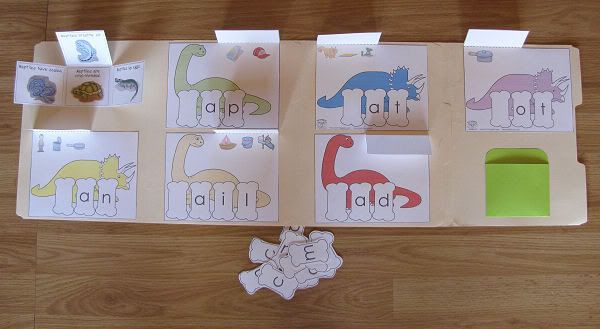 There were six of these cards below all with different words for a matching game.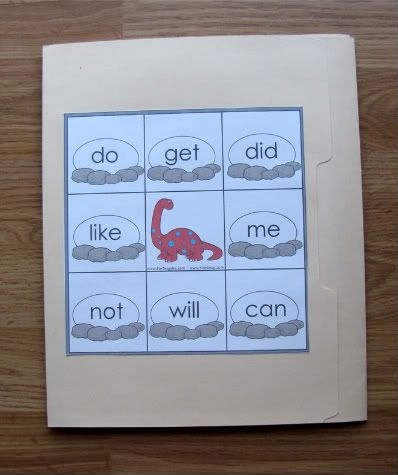 For
math
we used flash cards to make numbers....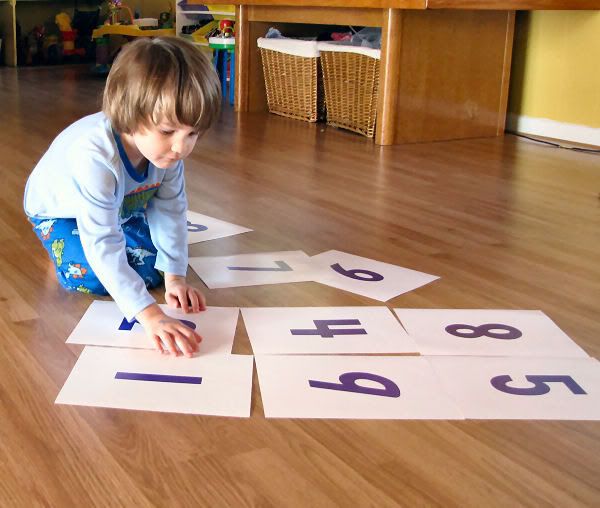 we played
Dino Bones
for addition, and used Kumon workbooks for writing practice, mazes and dot-to-dots.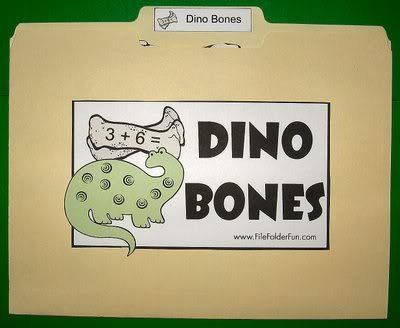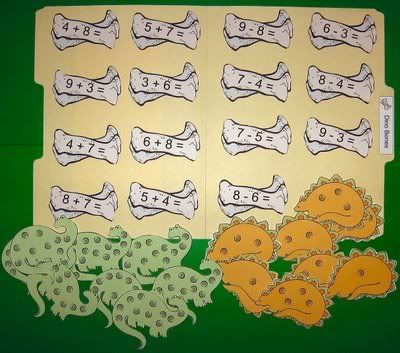 We made some cool dino
crafts
--an egg carton/TP stegasaurus (how-to
*here*
).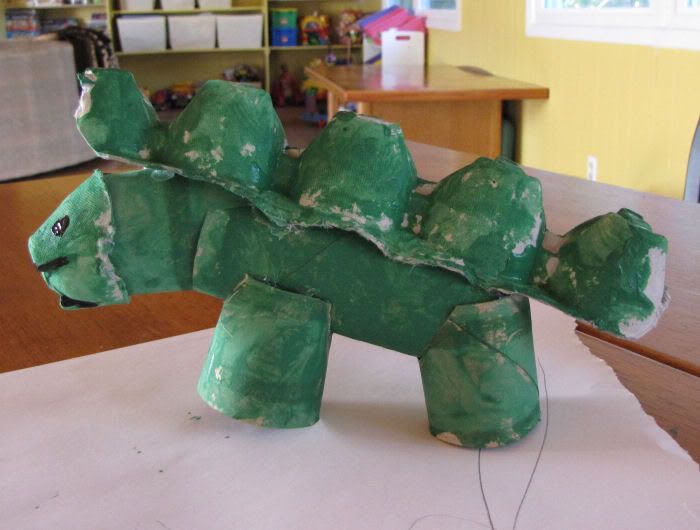 A milk jug pteranodon (how-to
*here*
).
A paper plate longneck that he made using three paper plates and sponge painting--simple, but cute.
For
Science
Joe enjoyed a
trip to the museum to see a dinosaur exhibit
, watching our BBC Walking With Dinosaurs DVD and catching critters outside with Hanna. To see Joe's little catch, click
*here*
.
We had a fun week! Next week we move on to ocean studies.
To see what others are doing visit The Preschool Corner at Homeschool Creations, and Weekly Wrap-Up at Weird, Unsocialized Homeschoolers.